Duration Premium COOL Shingles feature granules that reflect solar energy, which helps keep roofs cooler and decrease the amount of heat transferred to a home's interior-and the amount of air conditioning needed to keep it comfortable. Duration Premium COOL Shingles are ENERGY STAR® rated and offer a corresponding Owens Corning hip & ridge product for the finishing touch. These shingles also offer the advanced performance of patented SureNail® Technology.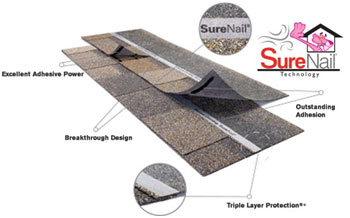 SureNail® Technology
There's a line between a good shingle and a great shingle.
It's the nailing line on your shingles. The difference between a good shingle and a great shingle is having SureNail® Technology. With SureNail® Technology, strength and durability are built into every Duration® Series shingle, thanks to the unique fabric strip in the nailing area. This unique shingle design provides outstanding gripping power.
SureNail Detail
Patented SureNail® Technology - Only from Owens Corning and featured on our Duration® Series shingles.
Breakthrough Design - The tough-engineered woven-fabric nailing strip is embedded in the shingle to create a strong, durable fastener zone.
Triple Layer Protection®+ - A unique "triple layer" of reinforcement occurs when the fabric overlays the two shingle layers, called the common bond area.
Outstanding Grip - The SureNail® strip enhances the already amazing grip of our proprietary Tru-Bond® sealant.
Exceptional Wind Resistance - The SureNail® grip helps deliver 130-MPH wind warranty* performance with fewer nails than required by most competitors.
Wind Resistance
Significant wind can cause shingles to blow off the roof deck. Missing shingles can lead to leaks and other interior damage. The quality and performance of the sealant on a shingle helps plays an important part in wind resistance performance. Owens Corning certifies our shingles to industry recognized wind resistance standards through independent third-party testing laboratories. To see the wind resistance warranty on this product, refer to the TECHNICAL SPECIFICATIONS tab.
Algae Resistance
Algae growth may cause brown to black streaks on roofs but this discoloration does not impact the service life of the shingles. Algae species are transported through the air and growth occurs to varying degrees in all regions of the country; especially those subjected to warm, humid conditions. Algae should not be mistaken for fungus growth, soot, dirt, or moss. Almost all types of roofing systems are susceptible to algae discoloration. Where noted on the individual Product Detail page Technical Specifications tab, Owens Corning provides limited warranty coverage on some of our shingles for algae resistance. For full details of coverage, refer to the actual warranty for details, limitations, and requirements.
Technical Documents
Applicable Standards
ASTM D3161 (Class F Wind Resistance) 2
UL 790 (Class A Fire Resistance) 3
UL ER2453-01
ASTM D228
ASTM D3462
ASTM D3018 (Type 1)
ICC-ES AC438
ASTM E108 (Class A Fire Resistance)
ASTM D7158 (Class H Wind Resistance)
1
LEED® is a registered trademark of U.S. Green Building Council.
2
Underwriters Laboratories Evaluation Service Evaluation Report.
3
International Code Council Evaluation Services Acceptance Criteria for Alternative Asphalt Shingles.
Technical Specifications
Warranty Length
Limited Lifetime
Wind Resistance
130 MPH
Algae Resistance
10 Years
Nominal Size
13 1/4" x 39 3/8"
Exposure
5 5/8"
Shingles Per Square
64
Bundles Per Square
4
Coverage Per Square
98.4 sq. ft.